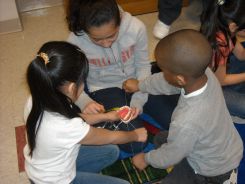 Gads Hill students practicing proper brushing and flossing technique.
Ask us about our $89 whitening special!
Out in the Community!
February is National Children's Dental Health Month! In efforts to improve our community's oral health, Dr. Varughese and Dr. Dhake have not only been treating patients in the office, but also spreading the message good oral health through community groups.
Dr. Varughese provided clients of the Midwest Brain Injury Clubhouse an oral health presentation with tips on better brushing, flossing and diet recommendations. The group had some great questions regarding dry mouth from medications and when to visit the dentist. She looks forward to spending more time with the Clubhouse members and would like to thank Renata Slayton for the opportunity.
Dr. Dhake recently visited two sites of Gads Hill Center and shared tips and tools to 70 kids ages 5 to 12 years old on good oral hygiene and importance of visiting the dentist. The kids practiced on model teeth flossing techniques and got to feel different dental instruments used at the office. Thanks to the team at Gads Hill for the opportunity. We look forward to working with them in the future.